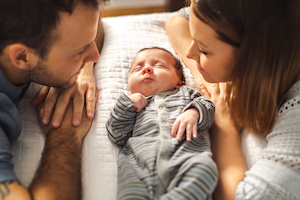 No matter how fast or slow that time is going, one thing for sure is you will have changes in your life. Some of the changes may be for the better or worse, but time marches on.  You may be embarking on a new career, job, getting married, divorced, or having children, all of which can correspond with some varying financial obligations. Keep in mind that as your life changes, so might your insurance needs.  Read on to assess which life changes your insurance agent should know about.
Typical Life Changes that May Make a Difference, but Not Limited to:
You certainly don't need to contact your local independent insurance agent with every little change, but some changes are significant enough that it could mean you are inadequately protected against those unexpected scenarios that could create a significant financial issue. Below are some common life changes that should be conveyed and discussed with Cameron Group Insurance to ensure all your insurance needs are addressed and the right insurance protection in place.
Married/Divorced- Whether you are getting married or divorced, it is something you need to communicate with your insurance agent. Having someone added to your policy (auto or home) or removed from the policy can impact your insurance premiums.  Also, if you are newly married, you may want to purchase an endorsement for the engagement ring should it get lost or stolen.
Major Home Makeovers/Additions- This change is essential to report because if you don't, you may end up in a situation where your homeowners coverage is inadequate to protect you for covered losses that can and do happen.  Keep in mind that simple changes such as fresh paint or new flooring don't need to be reported.  However, if you have done an add-on or a significant renovation to your home, you will need to let Cameron Group Insurance know so we can make the necessary adjustments/amendments to reflect the renovation or add-on.
Moving- If you are moving, selling, or renting, it is recommended you notify your local independent insurance agent. We want to make sure you are adequately insured for any covered perils you may encounter.
Switching Employers- Many employers offer limited life insurance protection, but you may prefer additional coverage.  If your new job comes with a change in salary, Cameron Group Insurance can provide additional life insurance protection so that if something catastrophic happens to you, then your loved ones will be fully protected.
Buying/Selling a Car- Whether it's an additional, new, or a replacement vehicle, you should notify your insurance agent.  Your agent may need to add a car to an existing auto policy as an "additional" vehicle or replace the car on the policy with the new one. We can make any required amendments to reflect your current auto insurance coverage.
Having a Baby- If you are adding to your family, it may be time to reassess your life insurance policy.  Having an additional family member may mean you need to raise your life insurance coverage so that your loved ones are adequately protected should something happen to you.
Buying a Boat- If you are purchasing a boat, you should let your agent know to ensure you get the right type of boat insurance for your specific boating needs.
Starting a Business- Starting a new business, regardless of size, should be communicated with us.  We want to make sure your business needs are assessed and adequately protected.
Let Us Know About Your Life Changes
If you have not had any significant changes in your life in the last few years, it is still recommended you set up a time to discuss your insurance coverages on a routine basis.  If you have any questions or concerns about any life changes or your insurance policy's coverage amounts, call our offices at Cameron Group Insurance and we will be happy to assist you right away. Don't wait!  Call today at 845-627-2130.