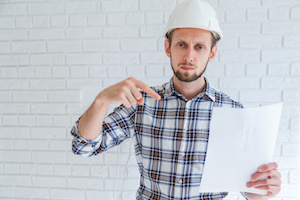 If you are a homeowner who plans to do renovations, upgrades, or has the need for repairs, you need be wary of contractor fraud.  Hiring someone to work on your property can be difficult because how do you know who you can trust?  Unfortunately, in our society, we are plagued by scammers and potential fraud, so you need to know some essential guidelines to minimize the risk of falling prey to scammers.
Two Common Types of Contractor Fraud
Contractor fraud is illegal business practices that can be avoided if you know what it is. This type of fraud is done by scammers that are hired to do repairs, renovations, or contractor work; however, their objective is to scam you out of money.  Two common types of contractor fraud most people are confronted with include:
Misrepresentation of Work- This is very common especially when you are in desperate need of a repair or job done. The contractor knows you are in a pinch so he/she may misrepresent the work needing to be done to make more money.  The job may only require a minimal amount of labor; however, he/she can falsify the details of the job and charge you for something not done.  Consequently, you may end up paying for a job that should have taken an hour but was declared and billed for a job that took all day.
Overestimation of Damages/Estimates- This is also a very problematic issue of which you should be concerned. This happens when someone comes to your house and "pads" the estimate or creates/complicates damages in an effort to get more money out of your pocket. Roofers are more likely to do this since their inspections/work are out of your sight; therefore, you may just trust what he/she says. Fraudulent roofers may stop by your home (unsolicited) and ask to inspect your roof for damages, stating that the latest storm has damaged a lot of your neighbors' roofs.  Upon inspection, he/she may create damage upon inspection or can exaggerate the damages and thus inflate the estimate for the job.
Tips to Consider before Hiring any Contractor, but not Limited to:
Be cautious of the contractor who is heavily pressuring you to get hired.
Be wary of low ball offers/estimates for the job. If it sounds too good to be true, it most likely is. It is recommended you get several estimates before committing to one person.
Avoid contractors who show up unsolicited to your home.
Always inspect the license plate of the work vehicle. If it is an out-of-town plate, it could be storm chasers who are on the move to scam those in emergency situations.
Research potential workers and ask for references.
Verify drivers licenses and insurance. If a contractor is properly insured, he/she won't be hesitant to provide insurance proof.
When necessary, confirm building permits.
Be wary of any person asking you to sign a contract with blanks on it. He/she can later add verbiage or information to which you did not agree.
Get everything in writing.
Be cautious of any worker asking for money upfront. This could be a sign you will never see him/her again once they have money in hand.
Cameron Insurance Group Can Assist You!
It is recommended before hiring anyone to do work at your home, whether it is repairs, renovations, or building, to contact us at Cameron Insurance Group at 845-627-2130.  Doing so can help to avoid contractor fraud and ensure your work done is performed by legitimate and reputable contractors. We are here for all your New York insurance needs.  Don't wait!  Call us today.