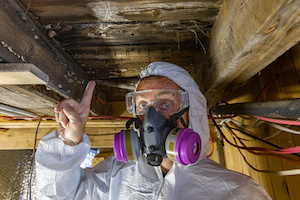 Buying a home is a huge investment, if not your biggest, so it's essential to have the right type of insurance protection. Of course, you may think you have all the protection you need for perils such as theft, lightning, hail damage, etc., but what about the hidden damages in your home that you never give much thought?  What you need to know about your standard New York homeowners insurance policy that may leave you with a coverage gap when you need it most.
Most homeowners insurance policies either contain exclusions or limitations for "Fungi", Wet Or Dry Rot, Or Bacteria.  So, maybe when you purchased your home you never gave much thought to those type of situations, but what if down the road you discover rot in your walls when tearing out a bathroom?  A slow water leak can lead to rot and subsequently mold if left undetected.  Trust me, you want to have adequate protection for situations like this.
Two Common Conditions You May Need to Address for Adequate Homeowners Protection
Section I: Damaged property at the residence/premises due to the presence of fungi, wet or dry rot or bacteria.
Property insurance coverage for mold, fungi, dry rot, or bacteria is often provided only if it is caused by a covered peril, at which point your homeowners insurance policy may cover the removal expense, tear out and/or replacement of the damaged location, among other expenses, all subject to limitations.
This situation is the most typical for homeowners, simply because many leaks or moisture situations aren't visible and remain hidden under the floor or walls, until the damage becomes a real issue and typically manifests itself. Once detected, these costs can be extensive, and the limitation of coverage may not be enough to cover your expenses.
Section II: Bodily injury or property damage liability resulting from the "inhalation of, ingestion of, contact with, or exposure to fungi, wet or dry rot or bacteria."
While this isn't as common, it can still be a real concern due to bigger implications of being exposed to mold and bacteria. Imagine the potential medical expenses and health concerns relating to this type of exposure.  The standard limit of coverage may be inadequate to cover these expenses.
A Solution for Hidden Damages by Adding an Endorsement
The good news is that you can increase the limits of coverage for Section I (damaged property) and Section II (coverage for bodily injury or liability) with an endorsement for just a few extra dollars. If you have any concerns about your current homeowners insurance policy, contact our offices at Cameron Group Insurance and we can assist you with all your N.Y. homeowners insurance needs.
We understand that having the right type of insurance protection when you need it most is key to your peace of mind. Leaks and water-related situations can happen to your home, and you need to protect yourself against fungi, wet or dry rot and bacteria. Consider taking precautionary measures today to prevent what can happen down the road.  Don't wait!  Call us TODAY at 845-627-2130.