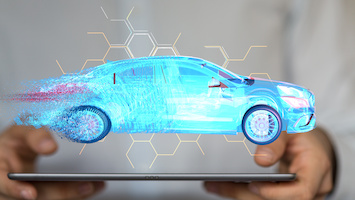 If you are a commercial business owner and have fleet vehicles, you are aware that one of the most common types of losses include fleet claims.  Utilizing drivers poses an inherent risk that accidents can and will happen.  Regardless of fault, it can take your drivers out of commission which impacts your customer service and ultimately the success of your business.  While accidents can and do happen, what if there was a solution to reducing the likelihood of accidents with the implementation of telematics?  Find out how about telematics and managing fleet vehicles to enhance New York companies just like yours.
Optimize Performance While Reducing Accidents with Telematics
Telematics is a powerful tool in the auto insurance world but is also a growing trend for businesses to monitor drivers' driving habits in an effort to optimize driver and vehicle performance.  You already know that accidents do happen, but you can reduce that risk if you take certain preemptive measures.  Below are some common attributes of telematics and how it may pertain to the success of your N.Y. commercial business.
Cameras- Having cameras installed in the fleet vehicles is certainly a positive, especially in an accident(s) that is disputable.  Imagine one of your fleet drivers being accused of causing an accident only to find that the camera revealed what really happened.  Your driver was an innocent victim to the accident. Having the details of the accident on camera can protect your driver(s) from being sued for an accident that wasn't the fault of your driver and can provide peace of mind especially when there is a discrepancy.
Real Time- Telematics provides real time accuracy of the vehicle location. If a customer calls and wants to know the exact location of their product and/or delivery, it can be provided with precision. This type of benefit allows for greater customer service satisfaction.
Problematic Vehicle Performance- With the assistance of telematics, certain vehicle performance issues can be identified so they can be resolved before a breakdown occurs or a more costly fix if detected later.
Bad Driving Habits- Telematics can detect speed, erratic driving behavior, hard braking/soft braking, and rapid changes in speed.  If one of your drivers is displaying bad driving habits, you can step in and impose training to enforce safe driving procedures and standards, BEFORE an accident happens.  This serves as a risk management technique to reduce the likelihood of an accident and keep your drivers on the road safely.
Stress Reduction- Having a vehicle out of service or drivers indisposed can lead to a disruption in your business operations and can negatively impact the success of your N.Y. business.  Telematics can offer a significant amount of valuable date to benefit your business and having peace of mind knowing this is installed in your fleet vehicles is priceless. These systems continue to grow in popularity and quality while decreasing in cost. Can you afford NOT to have it?
Don't Wait!  Call Cameron Group Insurance TODAY!
Cameron Group Insurance understands your business may be your biggest investment yet and the success of your business depends on many factors. We are here for all your N.Y. business insurance needs and can answer any questions and concerns pertaining to the benefits of telematics.  Call us today at 845-627-2130.