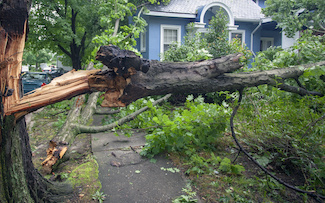 Severe storms happen quite frequently during the summer months as temperatures soar, not to mention hurricane season.  Violent weather conditions can create disastrous situations such as trees falling onto your property.  Trees can provide an aesthetic feel to your home property, but are you prepared for the damage it can do if it falls onto your home?  While you can't stop Mother Nature, you can learn some crucial ways to minimize property damage from trees.
If you have not personally experienced the devastation that a fallen tree can cause, you probably know someone who has had it happen to them.  Lightning, strong winds, soaked grounds, and severe weather conditions can strike at any given time and when it does, you need to be prepared. Steps need to be taken to prevent further damages to your property.
Signs Your Trees May Need to be Removed or Pruned
Assume a covered peril causes one of your trees to fall on your house, causing significant damages to your roof and interior of your house due to flooding.  Your standard homeowners insurance policy would provide coverage up to the limits of your property damage limits; however you need to be aware of some policy conditions and exclusions that may apply. For example, if the tree that falls shows signs of neglect or decay, you could be faced with a denial of coverage.
There are ways you can assess your situation on your property as to minimize the risk a tree(s) falls onto your property.  Below are some signs your tree(s) may need to be pruned or removed:
Signs of Deadwood
Peeling Bark on the Tree
Evidence of Ants, Insects, or Fungi Around the Tree
Decay or Hollow
Limbs Touching Roof or Power Lines
Cracks in the Trunk
Falling or Crossing Branches
Trees With an Odd Shape/Lean
If you see any of the above signs, it is recommended you contact a skilled professional/arborist for an accurate diagnosis.
When Property Damage to Your Home Occurs Due to a Fallen Tree
There are ways you can try to keep your home safe but assume worst case scenario happens and a tree falls.  What's next?  Below are some measures to follow:
Prioritize Safety- Before approaching the scene, make sure the area is safe and nobody is injured.
Call 911 (if Necessary)- If there are injuries or power lines are down, call 911.
Detail all Damages (photos)
Contact your Local Independent N.Y. Insurance Agent
Mitigate Damages by Contacting Tree Removal and Roofing Company- Covering the roof with a tarp is recommended to prevent any further water damages along with tree removal from your property
Contact a Water Removal Company (if Necessary)
Unforeseen Losses Can Happen
Are you adequately protected?  If you aren't sure, contact our offices at Cameron Insurance Group today and let us help.  We are here for all your N.Y. homeowners insurance needs. Don't wait!  Call now at 845-627-2130.