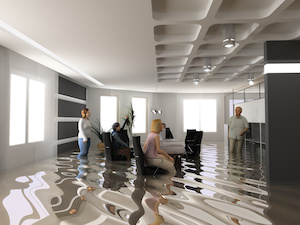 Whether it's excess water or flooding caused by severe weather conditions or a burst pipe, water damage can wreak havoc on not only your business operations, but your business property as well. Taking preemptive measures to prevent water damage is essential; although, as a business owner, you must be prepared for whatever life throws your way. Find out some key tips to preventing water damage to your business.
Water Damage Can Soak Your Business if You Aren't Prepared
Imagine that severe weather conditions caused major water back up which then seeped into your business. Because your business was closed for an extended holiday weekend, you had no idea. Upon your return, you not only discovered substantial water damage to your floors and walls, but also on some office furniture and business equipment.  This situation will significantly impact your day-to-day business operations and you need to get back up and running as quickly as possible.  Are you prepared if this situation happens?
Here are some ways you can minimize the likelihood of this happening and minimize the extent of the damages due to water damage.
Install a Sump Pump- Having a sump pump can put your mind at ease that if flooding should happen, this provides an avenue for that water to be pumped out of the building.  Make sure you invest in a battery-powered backup system so that if there is a power outage, it will continue to operate.  Routinely have the sump pump inspected to ensure it is properly working.
Install a Water Sensor- Investing in a water sensor just makes good sense.  You can purchase this at most home improvement stores and it allows you to link the sensor to your smart phone.  Should any water leak be detected, you will automatically be notified so you can take action immediately.  This is a great way to minimize water damages.
Address Drainage Issues- Go around your business property and look for potential drainage issues. Look for excess water or low-lying areas that could pose a problem and immediately take action to address it.  Hiring a landscaper or drainage expert is recommended. 
Examine Potential Plumbing Problems- Inspect your property and look for potential signs of water issues or leaky pipe(s).  If you detect mold or see wet or damp areas, you may have a plumbing issue(s) that needs to be addressed. Also take a look at your plumbing bill for any significant increase in water usage.
Purchase Sandbags- Severe weather can drop significant water quickly.  If the weather forecast predicts severe weather is forthcoming, you should invest in sandbags as a means to keep water and debris from entering your business.
Inspect the Exterior of Your Business- Inspect the exterior of your business to look for any potential openings exposed to the elements.  Inspect all doors and windows and take action to weatherproof them so that water can't come inside.
Regularly Inspect Your Roof- Leaky roofs can cause substantial water damage if not noticed.  It is recommended that you have your roof inspected on a regular basis so that you will be aware of any signs of rotting, missing shingles, soft spots, or mold. Also, make sure you have your gutters and down spouts cleaned routinely to allow proper water flow.
Cameron Group Insurance understands that water damage can and does happen, but we are here to assist you with all your New York business insurance needs so that when life happens, you can rest assured you have the right insurance protection for your business at a price you can afford.  Don't wait!  Call us today at 845-627-2130.