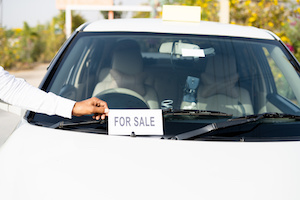 If you are in the market to purchase a previously owned vehicle, you may think the best place to go is your local dealership, but is it?  That may be the most typical way to buy a car these days, but it may be wise to consider a private seller. Many times, private sellers offer bargain deals for vehicles they are trying to unload for various reasons. While it may be worth it to save some money down the road, it doesn't go without saying there are key considerations of which you should know to make sure you get the vehicle in a safe fashion.  Read on to learn tips for buying a car from a private seller.
Ways to Securely and Safely Buy from a Private Seller, but Not Limited to:
Obtain the Car History- Make sure you obtain the CarFax report on the vehicle you are considering.  By providing the car's VIN number, you can find out any accidents the car has been involved in along with damages and service history.  If the history is acceptable and you're still interested, make sure you ask to test drive the car.  Always test drive a vehicle you are interested in purchasing. Doing this may make or break your decision to buy, regardless of the car history.
Research the Pre-Owned Car- Do your homework on the car.  You can go online and research the year, make and model to find out common mechanical issues, recalls, along with the overall performance.  It can't hurt to read consumer reviews on the car too.  
Negotiate- So, let's assume you love the car and decide to make an offer to the seller.  While most dealerships fail to negotiate, private sellers typically expect to negotiate.  Don't be afraid to begin negotiations at a researched fair market value of the car.  The value of the car can be established by looking at vehicles of the same condition and quality in your local area, as well as looking at the Kelly Blue Book. Leave yourself some negotiating room and hopefully you both can agree somewhere in the middle.
Use Caution When Sealing the Deal- Now, let's assume you agreed to a figure for the vehicle, and you are ready to seal the deal.  However, you need to know a few things to ensure you get legal ownership of the car safely and securely.  Below are some tips:
Set up a secure meeting place- When you are deciding where to meet, it is recommended you pick a public location, but before you do, make sure the sellers' name and address is confirmed and verified.
Avoid cash payments- Using cash can be dangerous. First of all, it is not traceable so if the seller says he/she never got the money, you can't prove it.  Also, showing up with cash can lead to being burglarized. Consider using a check or money order.  Avoid wire transfers or cashier's checks as these can be used for scams.
Get the title notarized- Plain and simple…get the title notarized. Anyone asking you to buy the car without doing this should be avoided.  For the car to be yours legally, that title must be notarized.
When you are buying a car from a private seller, you want to be informed and ready to drive the car with confidence. To potentially save some money, you will need to do your homework to ensure you get the car at a fair price.  If you have any questions or concerns about purchasing a vehicle and/or insuring the car, contact us at Cameron Group Insurance and we will assist you with all your New York auto insurance needs.  Don't wait!  Call us today at 845-627-2130.